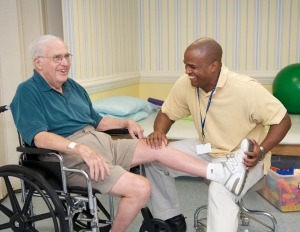 Sun Towers Outpatient Rehabilitation Services
provide an interdisciplinary approach to treatment with Physical therapy, Occupational and Speech therapy services. We incorporate advanced modality systems to successfully treat orthopedic, neurological and other injuries.
We provide services for Pain Relief, Balance training with the Bio Sway, Overall rehab for specific protocols such as total knee or hip replacements, rotator cuff surgeries on our state of the art "HUR" equipment and a certified orthopedic manual therapist on staff for treatment of associated spine conditions.
Our trained Therapists also offer assistance with Urinary Incontinence Programs, Treatment for Neurological and stroke motor dysfunction. Additional Modalities provided include: Ultrasound, Electrical Stimulation, Diathermy, Massage, Myofacial Release, VitalStim – Neuromuscular Electrical Stimulation for muscles utilized in swallowing and also Aquatic Therapy in our heated pool.
Our therapists work closely with the USF Health Byrd Parkinson's Disease and Movement Disorders Center of Excellence and provide supporting therapies for those with Parkinson's such as LSVT Big and LSVT Loud programs. On any Tuesday morning at 10:00 am, you will find our therapist leading a Line Dancing class which is open to the public and on Wednesdays at 10:00 am, Tai Chi classes, both designed to increase balance.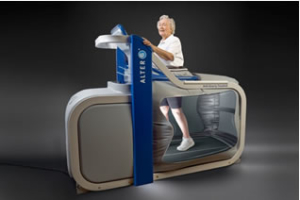 Our state of the art therapy equipment includes the Anti-Gravity Treadmill better known as the Alter G. For patients with arthritis, it provides all of the benefits of exercise while offloading the weight on their joints. Without this, it could be too painful to exercise. For someone who is overweight, they may be able to walk for only five minutes. With their weight offloaded, they may be able to walk for 30 minutes. That extra time spent exercising will add up quickly, as will the health benefits.
Two cameras aimed at the patient's feet and legs, with a flat screen display at the front of the treadmill, allow the therapist to keep an eye on the posture and gait and allow the patients to gain a sense of comfort in being able to see their legs in motion.
We are even able to provide "Scooter Training" to enable your safe transition.
An abnormal build up of fluid that causes swelling most often in the arms and legs. The condition develops when lymph vessels or lymph nodes are missing, damaged, impaired or removed.
Our Outpatient Pulmonary Therapy helps control, reduce and alleviate the symptoms of any chronic respiratory disease. Patients should expect to learn work simplification strategies and use energy conservation techniques that are proven to increase the quality of life by reducing their overall health care needs and costs. Our patients are also offered a once a month Support Group to assist in their continued improvement. The "Better Breathers Support Group" is supported by the American Lung Association and takes place on the 1st Thursday of each month at 10:00 am.
Your safety is our concern and we have the newest inter-active technology and latest techniques to keep you on your feet. Our state of the art Anti-Gravity Treadmill in addition to our BioSway, re-trains balance and gait skills through progressive testing and training modes, and are valuable tools for your balance recovery. Our trained and certified team of experienced therapists and their skilled intervention can put you on an improved path.
Transportation and Convenience
By offering COMPLIMENTARY transportation we strive to provide the best overall care to residents and patients from all of our surrounding areas. Our services are offered 5 days per week as determined by a patient's specific need. We provide one on one care, optimizing hands on treatment which enables quicker recovery, decreases pain and thus returns the patient to independence faster.